How to win a Cannes Young Lion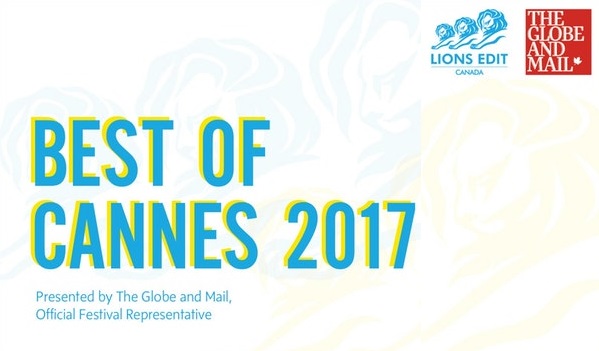 The Globe and Mail, Official Festival Representative in Canada for the Cannes Lions International Festival of Creativity, will be hosting an afternoon of inspiration and ideas at Best of Cannes 2017.
Kicking off another year of creativity, you'll hear from the industry's leading voices in advertising and marketing, including a special guest Simon Cook, Director of Creative Excellence from Cannes Lions. We'll also be celebrating the achievements of this year's Canadian Cannes Lions winners with cocktails set against a stunning 360° backdrop on the top floor of the new Globe and Mail Centre.
FEATURING
Creativity Matters
Simon Cook, Director of Creative Excellence
We believe that creativity is a force for business, for change and for good in the world and every year we make the case for creativity by actively demonstrating the tangible commercial, social and cultural impact it can have. The Cannes Lions festival marks the start of the creative year and Creativity Matters showcases some of the best examples of award-winning work and explores some of the key trends that are propelling the industry forward.
Inside the Jury Room
What really happens behind the closed doors of the Cannes jury room? Former jury presidents and jury members gather to share anecdotes, insight and tips during this candid, no-holds-barred discussion of what stands out in the world's most coveted advertising and marketing awards competition. How do the jurors decide on winners? What are the ideas judges find interesting and unique? What are they tired of seeing? Audience Q&A to follow.
Moderated by: Harmeet Singh, Editor of Strategy Daily
Panelists:
Jordan Doucette, CCO, TAXI (Cyber Lions Jury 2017)
Luc Du Sault, Partner, Creative Director, lg2 (Film Lions Jury 2017)
Tom Eymundson, CEO, Pirate Radio (Radio Lions Jury President 2016)
Steph Mackie, Owner and Creative Director at Mackie Biernacki (Direct Lions Jury 2016)
Cannes Deconstructed – The Sick Kids VS. Campaign
In this case study, we deconstruct and evaluate a winning campaign from this year's Festival. Learn the real stories and the intimate details behind the scenes from all the principals: from clients to creatives to media executives. A Q&A session with the participants will help uncover what worked, what didn't, and how these lessons can apply looking at for-profit work.
Moderator: Susan Krashinsky Robertson, Media and Marketing Reporter, The Globe and Mail
Panelists:
Lori Davidson, VP of Brand Strategy, The Sick Kids Foundation
Carlos Moreno, Chief Creative Officer of Cossette
James Ogle, Group Director, Strategy, OMD Canada
DATE AND TIME
Mon, 30 October 2017
1:00 PM – 5:00 PM EDT
LOCATION
The Globe and Mail Centre
351 King Street East
17th Floor
Toronto, Ontario M5A 0N1
PLUS, join us for a special workshop prior to the Best of Cannes event, hosted by Simon Cook, on crafting an award-winning entry. Limited seats are available. Register here.