Phishing Scam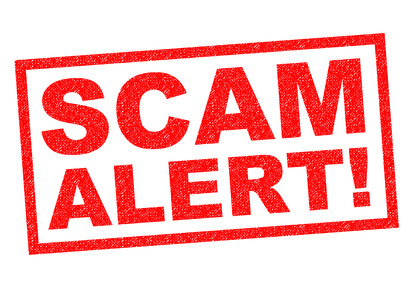 We have recently become aware of an Employment Scam where individuals are posing as Marketing Talent employees and extending offer of parttime and fulltime jobs.
What we know so far:
Alias used: Sandra Bishop – HR Manager  (WE DO NOT HAVE AN EMPLOYEE BY THIS NAME)
Email address(s): hr.manager@marketingltd-staffing.com, hr.department@marketingltd-staffing.com.
They claim to have found your resume on Indeed.ca and offer the role 'online services manager'.  They then send you forms to fill out.  DO NOT RESPOND 
Here is a screen shot of the correspondence being sent.  You should report the scam to your local police.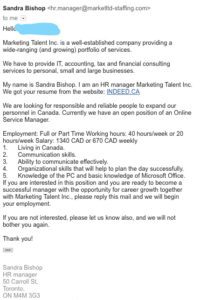 Marketing Talent is co-operating with authorities to shut down this scam.
If you have already filled out information or contacted these individuals, you can follow this link to protect yourself: http://www.antifraudcentre-centreantifraude.ca/victim-victime/index-eng.htm