The Art Of Marketing Announces Speaker Line Up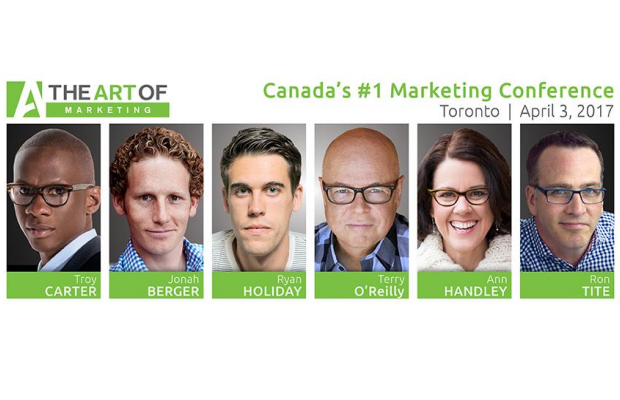 The Art of Marketing is coming to Toronto on April 3rd and the Marketing Talent Inc. community has an opportunity to participate in this exceptional day of learning. Additionally, a preferred rate has been established for our network.
This one day conference features six internationally renowned bestselling authors and thought leaders, who will share an exciting blend of cutting edge thinking and real world experience on today's most critical marketing issues. Don't miss out on your chance to gain a competitive advantage and network with over 1,200 of Canada's most successful marketers. Speakers include:
 Troy Carter – Lady Gaga's Former Manager, Tech Venture Capitalist, Founder of The Atom Factory
 Jonah Berger – New York Times Bestselling Author and Marketing Professor at The Wharton School at the University of Pennsylvania.
 Ryan Holiday – Wall Street Journal Bestselling Author and Renowned Media Strategist
 Ann Handley – Wall Street Journal Best Selling Author and Chief Content Officer at MarketingProfs
 Terry O'Reilly – Best Selling Author and Host of CBC Radio's Under the Influence and The Age of Persuasion
 Ron Tite – Co-Author of Everyone's An Artist, CEO of The Tite Group and Creativity Expert
For more information you can visit: The Art of Marketing
REGISTRATION
Register using promo code MTI20 and save $50 per pass until February 10th. After February 10th, save $50 per pass and an additional $50 per pass when registering 5 or more people at the same time.