CMO Series: The Marketing Renaissance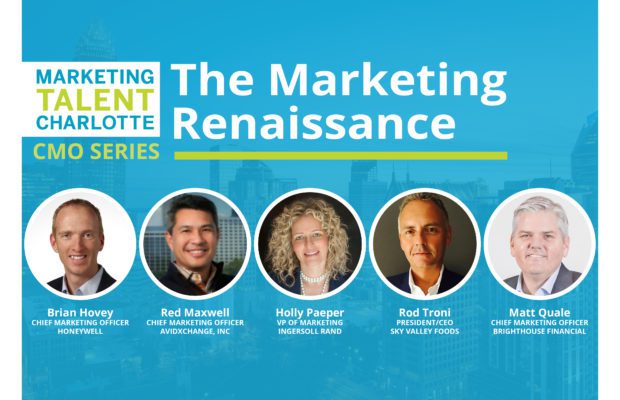 On March 20th Marketing Talent Charlotte's annual CMO Leadership series will bring together a cross industry panel of Global and National marketing leaders to explore the current landscape that many refer to as the Marketing Renaissance.
Leveraging the latest findings from the American Marketing Associations Bi-annual CMO Survey, the panel will explore the rapid pace of change in marketing technology, the transformation of marketing departments and the role of talent, technology and the Ad agency.
This panel will aim to provide a pulse on the position of the CMO within the C Suite, The attitude towards the value of marketing as a business practice, and the current economic factors affecting how marketers are having to operate.
Why Attend?
Past attendees credit this event with providing them cross-industry perspectives needed to build compelling business cases to ask for more marketing investment, adjustments in talent mix & skill-sets, and strategic business recommendations.
76% of past attendees are Director, Vice President or higher
When
Tuesday, March 20th 2018
6 PM – 8:30 PM
Where
AvidXchange, Inc.
1011 Hamilton St. Charlotte, NC 28206
Free parking, a pass will be issued.
Moderator
Craig Lund, President Marketing Talent Inc
CMO Panel
• Brian Hovey, Chief Marketing Officer – Honeywell
• Red Maxwell, Chief Marketing Officer – AvidXchange, Inc
• Holly Paeper, Vice President, Marketing – Ingersoll Rand
• Matthew Quale, Chief Marketing Officer – Brighthouse Financial
• Rod Troni, President/CEO – Sky Valley Foods