2017 Marketing Legend Inductees Announced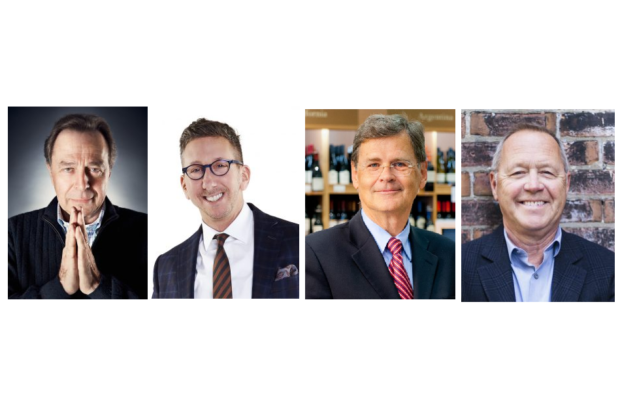 TORONTO – (Jan. 10, 2017) – The Toronto chapter of the American Marketing Association today announced its 2016 inductees to Canada's Marketing Hall of Legends – four visionary professionals whose game-changing insights and leadership have forged innovative paths to success and growth in their respective fields.
Named as 2016 inductees to Canada's Marketing Hall of Legends are: Arthur Fleischmann, president and co-founder of award-winning agency john st.; Arkadi Kuhlmann, founder of ING DIRECT Canada; Richard Peddie, former president and CEO of Maple Leaf Sports and Entertainment and former CEO of the Toronto Raptors; and Bob Peter, former president and CEO of the LCBO and former president of The Bay.
The 2016 inductees named today will be honoured during AMA Toronto's annual gala event on March 3, 2017 at 7 pm at Toronto's historic Arcadian Court, 401 Bay St., Toronto.
"AMA Toronto is truly proud and honored to name these four outstanding individuals to Canada's Marketing Hall of Legends," said Tania Stadnik, President of the AMA's Toronto chapter. "Original thinkers, brilliant strategists and industrious leaders, they have each earned their place as legends whose remarkable work through the years has produced unforgettable success stories. We warmly and enthusiastically welcome Arthur Fleischmann, Arkadi Kuhlmann, Richard Peddie and Bob Peter to the Marketing Hall of Legends."
The Canadian Marketing Hall of Legends, established in 2004, is dedicated to honouring Canadians who have dedicated their lives to the pursuit of excellence in the field of marketing. The criteria for selection includes the overall impact that marketing professionals have demonstrated in the Canadian or global marketplace through their ideas and contributions to marketing and brand building.
"I'm thrilled to be named to the Marketing Hall of Legends in the Mentor category," said inductee Richard Peddie. "It's always special to be included in a great team of proven professionals. This recognition is very special to me as I have tried to devote my entire career to being a student of leadership and helping develop future leaders."
"I am honored that the AMA Toronto, itself an innovative and forward-thinking organization, has added me to its ranks," said inductee Arkadi Kuhlmann, Founder and CEO, Zenbanx. "Thank you for this amazing privilege."
"I'm pleased to be named to the Marketing Hall of Legends with this distinguished group of marketing professionals," said inductee Bob Peter, former president and CEO of the LCBO and former president of The Bay. "To be acknowledged in this manner for my career achievements is a great source of pride and I offer sincere thanks to the Toronto chapter of the AMA."
Visionary
Arkadi Kuhlmann, Founder & CEO of Zenbanx
@arkadikuhlmann
Arkadi's vocation and avocation have been to reinvent and revitalize consumers' relationship with their money. He introduced the world to direct banking with a simplified customer focus when he founded ING DIRECT Canada in 1996, creating the brand strategy, recruiting the senior leadership team and growing the bank during 1996-2000 to a successful market position while serving as the bank's President and CEO. He then repeated this process in 2000, founding ING DIRECT USA and led its growth to become the nation's largest savings bank and number one direct bank, with more than $84 billion in deposits and 7.8 million customers. Arkadi executed his vision to create a retail-focused bank that offered an easy-to-use savings, checking, mortgages, and investment products direct to consumers. His customer strategy led to fanatical loyalty and industry-leading customer promotion scores and branded him affectionately as the 'CEO of Savings.' Read more…
Enabler
Arthur Fleischmann, President & Co-Founder of John St.
@torontoadguy
Arthur has come a long way from the streets of Queens, NY where he was born. He started his career in sales at Xerox after earning a degree in Economics and English Literature at Brandeis University in Boston. But after losing a photocopier out the back of a moving station wagon on the way to a client, Arthur decided it was time for a change. Arthur attended Kellogg Graduate School of Management at Northwestern University and entered the world of brand management at Kraft/General Foods in New York. In moving to Canada, Arthur made the switch to advertising and never looked back. After stints at Bates Canada and Ammirati & Puris where he left as President in 2001, Arthur and his partners opened john st.  His goal was to create a "creative collaborative" without the silos, bureaucracy or territorialism he'd seen in his previous lives. Read more…
Builder
Bob Peter, Former President & CEO of LCBO; Former President of The Bay
Over the course of his 48 year retail career, Bob has helped shape, innovate and grow two of Canada's leading retail organizations – Hudson's Bay Company and the LCBO. Bob began his retail career in 1968 at the Hudson's Bay as a management trainee in Winnipeg.  He became a key player in the Hudson's Bay Company holding several high-level positions – Vice-President of the Bay Stores, President of Simpsons, President of the Bay and Executive Vice-President of the Hudson's Bay Company and Chairman of the Bay's Specialty Stores.
In 2001, Bob joined the LCBO as President.  Under Bob's leadership, the LCBO consistently increased its operational and financial performance, undertook an unprecedented expansion of its network and product assortment, improved customer service, modernized its logistics facilities and supply chain, positioned itself as a leader in philanthropic endeavours and environmental sustainability, strengthened its record in responsible retailing and effective support for Ontario beverage alcohol suppliers to grow their business. Read more…
Mentor
Dr. Richard Peddie, Former President & CEO of Maple Leaf Sports and Entertainment; Former CEO of Toronto Raptors
@RichardAPeddie
Richard's entire life has been about leading with strong core values, building  enterprise value and creating excellent places to work. Whether it was president of Hostess, Pillsbury, SkyDome, NetStar or Maple Leafs Sports & Entertainment he always delivered tremendous financial value to those companies by having a clear leadership vision and consistently living strong corporate values.
Richard was president and CEO of MLSE for fourteen very busy years.  From building Air Canada Centre and BMO Field,  launching Leafs tv, Raptors tv and buying Gol tv;  to bringing Major League Soccer to Canada and launching TFC;  to building the $500 million dollar Maple Leaf square; Peddie helped grow the company from an enterprise value of $300 Million to $2 Billion. He did this by consistently practicing 4 core values: excite every fan, inspire our people, dedicated to our teams and by being leaders in the community. Read more…
oin us for our 12th annual Marketing Hall of Legends gala where we honour these four extraordinary Canadians whose ideas and contributions to marketing and brand building have made a tremendous impact in the Canadian and/or global marketplace.
The first 50 people to purchase tickets get $50 off their ticket price (use code EARLYBIRD)!
GET TICKETS: http://www.amamarketinghalloflegends.ca/tickets/
Below is a sneak preview into an evening of celebrations and tributes.
Follow this event on Twitter: @amatoronto #AMAevents #marketinghalloflegends